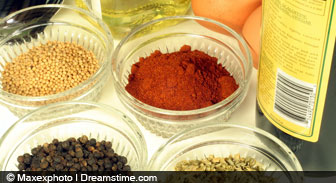 Florida's regional fare features some of the most deliciously unique dishes in the world. Because the Sunshine State is a melting pot of various cultures and ethnic groups, an assortment of ingredients, spices, and foods are used in the preparation of Florida's cuisines.
The first inhabitants of Florida were various tribes of Native Americans who were hunters and fishermen. These indigenous people relied on Florida's wildlife as their major source of food. The Florida natives hunted bison, deer, and other animals, and foraged for wild nuts and berries. With the arrival of Ponce de Leon from Spain in 1513, the multicultural infusion of Florida's food began, signaling a drastic change in diet for Florida natives. As more European explorers came to Florida, the state's culinary styles became extremely diverse.
Not long after the Spanish began to settle in Florida, more immigrants began to arrive, including the Africans who were brought to America as slaves during the 16th century. The foods and dishes of the Native Americans, Spanish, and other Europeans were greatly influenced by the ingredients, spices, and methods of food preparation that the Africans brought from their home country.
Anglo-Americans who migrated south to settle in Florida also played a major role in flavoring the taste of Florida's regional cuisine. They found various ways to use Florida's indigenous ingredients like guavas, fresh seafood, wild ginger, and many more local foods. As time progressed, the basic Spanish and Southern cuisine of Florida blended with that of a number of other cultures.
One of those cultures that influenced Florida's culinary styles was the Minorcans. The Minorcans were a large group of Mediterranean immigrants who settled in St. Augustine in 1768. These migrants used a pepper native to Florida call the datil to flavor traditional sauces and pilaus.
Jewish communities in Florida began to grow tremendously in the early 1900's. Many Jewish restaurants opened throughout the state, adding to Florida's culinary heritage.
Later in the 20th century, Cuban refugees migrated to Florida, bringing with them their own styles of cuisine. Some Cuban dishes that have become popular include black beans, arroz con pollo, and one of the most famous Cuban dishes, the Cuban Sandwich. Extremely popular in Florida, this deli sandwich favorite is made with cold roasted pork, thinly sliced roasted serrano ham, thin swiss cheese, sweet pickle, and yellow mustard served on buttered Cuban bread, and pressed in a grill called a la piancha.
Other regions that have greatly impacted the taste of Florida's cuisine are various Caribbean islands and the Bahamas. Authentic Caribbean cuisine has combined with Florida's own native dishes to create a hybrid cuisine that has become known as "Floribbean" food. Floribbean is a lighter version of Caribbean fare, with less oils and frying used in food preparation. This infusion of Floridian and Caribbean foods produces a vivid combination of colors and tasty island spices like ginger, allspice, cumin, cilantro, cinnamon, fennel seeds, mustard, thyme, oregano, and black and red peppers.
Florida has such a diverse heritage, with inhabitants who have come from all over the world. It's no wonder that the culinary styles in the sunny panhandle state are so richly varied. Vacationers are sure to enjoy the eclectic blend of dishes that are found in Florida.
Print this Article